Customer Reviews
07/05/2023
Jan B.

United States
Baylis Shaving Brush
This shaving brush was purchased as a gift for my husband. We both agreed that the brush was very well made, felt good in the hand and was an overall excellent brush for someone who wanted bristles on the stiffer side. However, my husband was interested in a brush with softer bristles. He decided to purchase a High Mountain Badger brush instead and is very satisfied.
05/10/2023
Robert D.

United States
Shave Brush
Nice balance..lathers up nicely. Good looking in my T Stand.
04/18/2023
Kristi G.

United States
Absolute perfection!
I ordered the Vespucci razor and brush, along with a stand for my husband. He absolutely loves it. I was on the search for a high quality shaving products and there are not many on the market. Very glad that Mondial started selling in the US!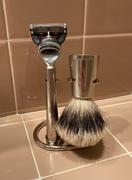 Best Badger
Surprisingly Soft Feel
A high quality, natural grey color badger with slightly less flexibility than Super Badger and less distinctive band. The hair fibers are shaped such that the base is wider than the tip, allowing for a softer feel but still producing excellent lather.
Proudly Display Your Masterpiece With Our Chrome Stands