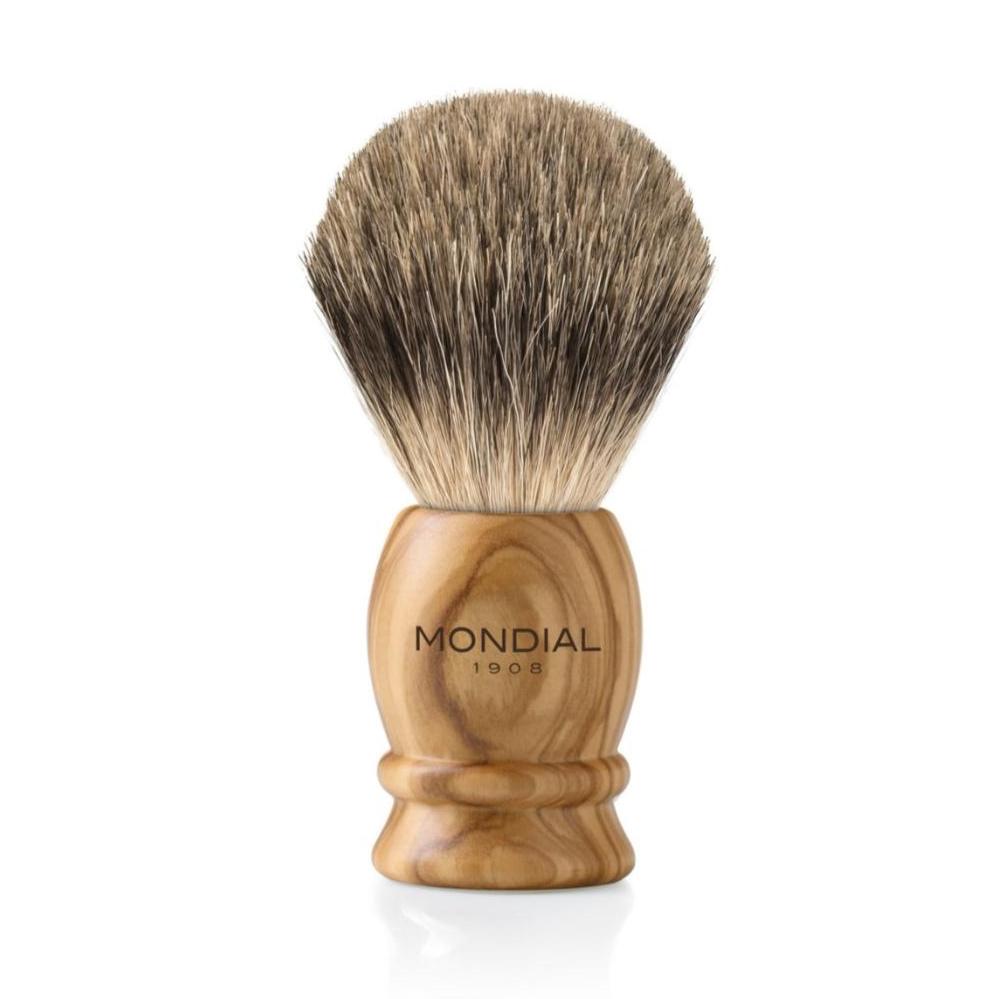 Olive Wood Brush with Best Badger: XL
---
The precious wood handles of our 'Luxury' collection elevates one of the most classic of materials to the forefront in a timeless rounded shape with a strong, ridged base.  

Olive wood has been a staple in Italian design and construction for centuries and has captured the admiration of woodworkers the world over. This hard, dense wood has a magical grain with a rich and colorful color combination of brown lines and yellow streaks.
The brush is topped with our premium Best Badger knot. 
All of our brushes arrive smartly packaged in our golden orange gift boxes inspired by the view of the Florentine sunset from or Gentlemen's Barber overlooking the River Arno.
Knot Size: XL (24.5 mm)
Knot Size
| | |
| --- | --- |
| Small |  18 mm |
| Medium | 20 mm |
| Medium-Large | 21.5 mm |
| Large | 22.5 mm |
| XL | 24.5 mm |
| XXL | 26 mm |
In-stock items almost always ship within two business day after an order is placed and much of the time within one day. Occasionally, there may be a small delay before your order can ship and we will do our best to notify you of those delays. And as is now the reality in our world, there are more and more instances when shipments take longer than usual in transit due to logistics constraints with the shipping carriers such as USPS, UPS and FedEx that are beyond our control. 
Our typical shipping option is standard ground shipping from FedEx, but we do have expedited shipping options available as well. Most items will have a USPS flat rate parcel or priority shipping option. Orders containing fragrance items with alcohol as a primary ingredient cannot be shipped via USPS.
Please note that due to capacity changes with shipping carriers, we may alter these options at any time. Again, this is the world in which we live, but we're working every day to make sure shipments go as smoothly as possible. In those instances where there is a carrier delay, we simply ask for your patience while we do our best to resolve those issues.
If you have a special shipping or timing need, please contact us at servizio@mondial1908.us, via the onsite chat or by phone at 617-449-7394 and we will do our very best to customize or rush your shipping.
Not sure how long your order might take? You can click here for the USPS priority transit time calculator and here for FedEx Ground. Packages ship from the 01841 zip code. Please use the next business day as your shipping date to see what options are available for you.